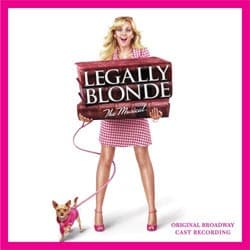 Ever since I was a little girl, I wanted to be a big
broadway star
. I missed my chance. They are coming out with a show on MTV, where they have cast the next
Elle Woods
for the Broadway show of
Legally Blonde the Musical
. I missed the tryouts for the show. I feel like I have missed my true calling in life and my dream has been crushed. I have come to the realization that I will never actually be a famous singer/Broadway star and I am deeply saddened by this thought. I know that it might be a little dorky to have the dream of being a broadway star and especially starring in a cheesy show like Legally Blonde, but it is my dorky dream. I always wanted to go to NYU and major in musical theatre so that I could have a job where I get to be cheesy everyday. I just want to spend my life singing and dancing and being overly dramatic.
Ever since I saw the movie
Legally Blonde
, I fell in LOVE

with

Elle Woods and her story. She starts out with a narrow view of life, herself and relationships. She only thinks that the superficial things in life are important but throughout her self discovery, she grows into a strong, smart, and capable woman. Eventhough her initial persona may be superficial, Elle is not selfish and has a good heart. Elle is very intelligent despite what others think of her. She wants to be a winner, but never acts immorally to get what she wants. Elle will not do anything that would jeopordize her character.
Elle grows throughout the plot and realizes that she can do anything that she puts her mind to. This is such a feel good story that you can't help but to fall in love with the storyline and character.
Needless to say,
Legally Blonde the Musical
is my most favorite thing in the world!! It takes two of my favoite things and puts them together. The music is so much fun and perfect for the story. Everytime I listen to the music, it makes me feel good. I know every single word to the entire play and often practice being
Elle
in my car and in my room when Reamer is gone. If anybody ever wants to see my production, please let me know. I will be happy to show you. Champ enjoys watching, so I think that others would enjoy it as well. It angers me that I missed my big break. The part of

Elle Woods

would have been absolutely perfect for me. Oh well.....Even if I can't be a famous Broadway Star, I can always pretend (and entertain my dog).